MY GOOD FRIEND MIKE
tniassaint
IS BACK IN NEW ORLEANS FOR A FEW DAYS
Unfortunately he's mostly working and he had to leave Eileen and the kids back at home. We did get to go slumming a bit, first getting some dinner, then stopping at one of my old haunts on Magazine Street, Le Bon Temps Roulé ("The good times rolled").
Laissez le bon temps rouler
is a Cajun expression that means "Let the good times roll".
I've never been good at taking night shots with my camera, but here are a few that came out okay. The first is Mike resting in front of Le Bon Temps Roulé for a minute (after some Abita Amber) before trekking back to my car:
Let the Good Times Roll
Magazine Street is one of my favorite streets around which to roam. It has lots of antique shops, galleries, restaurants, specialty shops of all kinds, but there are lots of people who live there too.
Here's a typical New Orleans cottage across the street from Le Bon Temps Roulé:
Tree and House on Magazine Street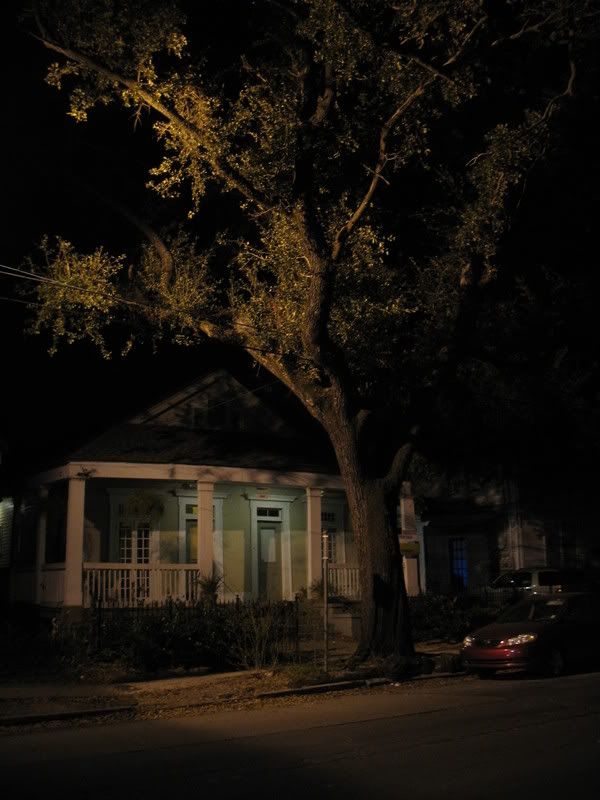 We hung around Magazine awhile, and then Mike wanted to check out St. Louis Cathedral behind Jackson Square in the French Quarter. Before we headed to the cathedral, I snapped this picture of the famous Tujague's Restaurant. It has been in business since 1856, and it's where you go for beef brisket and to be brow-beaten by the surly waiters who work there:
Tujague's Restaurant & Bar
Jackson Square and St. Louis Cathedral were smothered in darkness, so we headed for the corner of Orleans and Dauphine because Mike has a friend who lived there a few years ago. He stayed there as well, and mentioned how he once ran his car into the wooden gate that opened into a driveway on his friend's parents' property.
While there we struck up a conversation with a couple of street musicians named Rev. Cowdog and Stella. We had a real nice time talking to them, and they played some music for us,
St. James Infirmary
, a long version with lyrics I'd never heard before. I named him the "irreverant" Reverand, and they got a kick out of that. He played a mean guitar with Stella playing the fiddle and also doing a soulful vocal.
I enjoyed meeting them so much. We got to talking about spiders and I gave them an idea for a song about the Hobo spider and the Brown Recluse. "That Hobo Spider, he don't bother me no, but I ain't got no use for that - unh, unh, Brown Recluse." *lol* If I have time Monday, I'll try to post a few more pics.
***
Let her go, let her go, God bless her,
Wherever she may be,
She will search this wide world over,
But she'll never find another sweet man like me.
***