***
REMEMBER THE OPENING SCENES OF THE 1980 FILM 'POPEYE'? JOHN ROBERTS MADE THAT ABSURD CONCEPT A REALITY IN THE NEW POST-CONSTITUTIONAL AMERICA
Forget the speculation on the rationale of this absurd sleight-of-hand to protect an unconstitutional law … it is reality now (until the people of this country rise up in November) and there is NO LIMIT on Obama's ability to MAKE YOU DO ANYTHING by giving him and his radical Democrats in Congress the power to tax EVERYTHING … even NOTHING:
Remember?
Obama as the Tax Man from 'Popeye'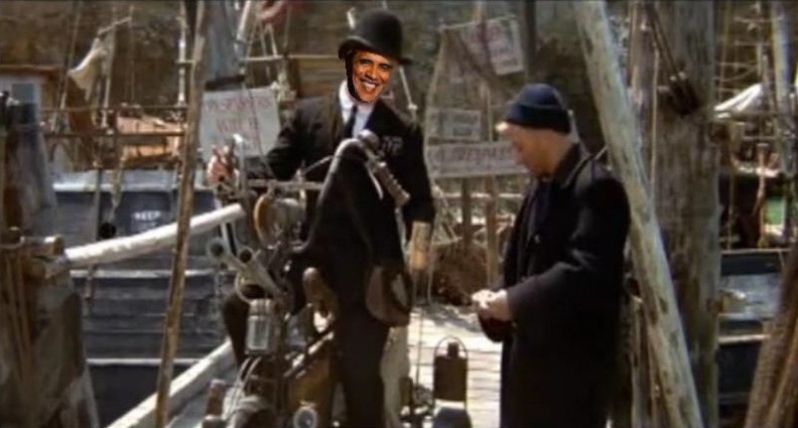 Hat tip 'Popeye' (1980) - Another Metaphorsbwithu Parody - All rights reserved

The Tax Man: You just docked?
Popeye: I has.
The Tax Man: Ah ha, let's see here, that'll be 25¢ docking tax.
Popeye: What for?
The Tax Man:
Where's your sea craft?
Popeye:
It ain't no sea craft, it's me dinghy and it's under the wharf.
The Tax Man:
Ah ha. ahh-ha. This your goods?
Popeye:
They is.
The Tax Man:
Yeah. You're new in town right?
Popeye:
If you call this a town, yes.
The Tax Man:
Well, first of all, there's 17¢ new-in-town tax, and there's 45¢ rowboat-under-the-wharf tax, and one dollar leaving-your-junk-lying-around-the-wharf tax, so all together, you owe the Commodore $1.87.
Popeye:
Uh, who's this Commodore?
The Tax Man:
Is that the nature of question? There's a nickel question tax …

The Tax Man:
Not up to no good are you? 'Cause if you are there's a fifty cent "Up to No Good" tax.
Make no mistake about it. Our worst fears have been realized.
Obama and the Democrats have been handed absolute power to control each and every aspect of your life … and there is no one now, not the Senate, the House, the Supreme Court, no one to protect your Constitutional rights.
The Supreme Court has declared YOU made this choice and to live with it … it's not their duty to protect you by upholding the Constitution.
"It is not our job to protect the people from the consequences of their political choices."
WHAT???
Do you understand what has happened?
Obama VEHEMENTLY denied ObamaCare mandate was a tax and now, to save it, the Supreme Court has rewritten the statute and said ... "Oh, sure it is. Sometimes ... when convenient."
The Court knew the mandate was unconstitutional under the government's argument and pulled a rabbit out of a hat to save it.
Astounding.
The law no longer matters. The Constitution no longer really matters (except to advance agendas). This is mob rule. This is carte blanche for government to do whatever it wants to you. There is no recourse except to "throw the bums out" at the next election. We are in a post-Constitutional America.
Happy?
Current Mood:

indescribable