***
NO WORD YET ON WHEN OBAMA WILL START GETTING HIS INTELLIGENCE BRIEFINGS ...
DID YOU KNOW HE HASN'T HAD ONE SINCE SEPTEMBER 5?
Yep, you read right ... the explanation is that Obama is so smart he doesn't have to have face-to-face meetings, act tough questions, and offer feedback because he is so smart he knows more than his intelligence officials.
In fact, when asked several times if that were true, National Security Council spokesman Tommy Vietor REFUSED to answer.
Empty Chairs at Intelligence meeting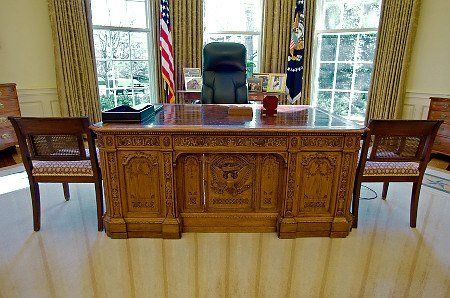 What has he been doing?
Oh, while the German embassy in Sudan was set on fire, US embassy rioters in Tunisia were fired at by police as the embassy was invaded, as military security forces were upgraded in Yemen, as American flags were burned in London as protesters went wild, as Islamists invaded the US embassy in Tunisia, as investigations continued in Libya, as more protestors emerged in Jordan, as protests continued in Egypt and Libya, and while crowds began to form in Malaysia, Bangladesh, and Iraq, the Obama campaign tweeted:
"Beyonce and Jay-Z are hosting the President in New York, your chance
for two spots on the guest list ends at midnight."
This morning, President Obama also welcomed the 2012 US Olympic and Paralympic teams to the White House. Because as Michelle Obama said on national television that
obesity
is the greatest threat to national security.
More campaigning and fundraising while the joke of a media circles the wagons advances the narrative that all this is Mitt Romney's fault and some obscure "film-maker" who produced a cheap video seen by only 10 people in June and whose YouTube clips are being used as an excuse for Islamic terrorists to whip up crowds throughout the Middle East.
And now word is from the UK (where you have to go to get actual news about the US and this administration) that there were warnings about a coordinated event for days prior to 9-11.
Meanwhile Janet Napolitano is apparently still looking for domestic "terrorists" (people who believe in the Constitution), the DOJ is publicizing the alleged identity of the "film-maker" who put up his anti-Islam video on YouTube and letting everyone know he is Coptic Christian (no word if he might be a "white Hispanic"), Obama is cracking jokes and rubbing elbows with celebrities as the liberal media carry their water and conspire (literally) to attack Obama's opponent in the race for president, Mitt Romney?
Oh, and Michelle Obama is on Dr. Oz teaching him some hi-hop moves (the dougie) and agreeing "absolutely" that
obesity
is America's number one security risk!
I kid you not! And why do they think they can get away with this?
Because they all think you are stupid!
Or at least 50.1% of the population.