***
IT'S NOT AS AWFUL AS IT LOOKS, BUT IT'LL TAKE TIME FOR ME TO PULL IT OUT AND REPLACE WITH GOOD SHEATHING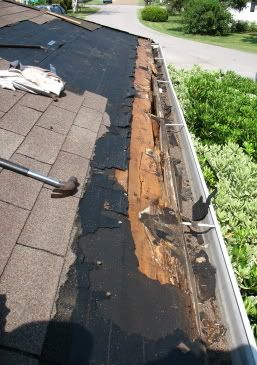 I thought this was going to be the easy side because it sustained the least damage from Katrina. Unfortunately, there must have been a lot of slow leakage and moisture retention because the edge sheathing was about 25% rotted almost all across the side of my house.
I ripped it all out, had to make a couple of splices to nail the new sheathing, and got nearly two-thirds of it done before I began hearing ominous thunder in the distance. This is what it looked like before the rains came: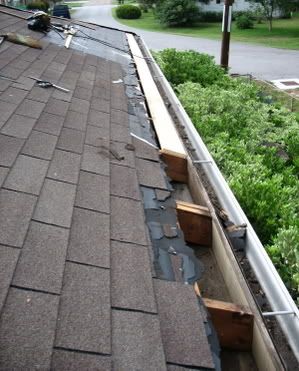 The old wood was better than what they sell now. The sheathing I pulled out was a true 3/4" thick and 8 inches wide. The sheathing I have is 11/16 " X about 5 1/2". That means I'll have to rip some strips about 2 1/4' wide to fill in the empty space inside ... not very difficult but it just takes more time. Then I'll remove the old shingles and begin putting down new roofing felt and shingles.
I'm guessing it will be about 2,400 square feet over my main residence. I think I did about 700 square feet over my quest room/ utility room so you see I have a lot more to do. Maybe I'll take some exact measurements tomorrow to estimate how much material I'm going to need.
I was hoping the rain would hold up another day so I could put up some roofing felt to help keep out the rain but it looks like we'll have a good bit tonight unless most of it blows over. I had to nail down some tarps again in the wind and did a rush job so I hope the rain isn't heavy.
Well, that's it for another sparkling Saturday down here in the land of dreams. Hope yours all come true. Night all!
oh wah, oh wah, oh wah, oh wah, oh wah, oh wah

Why do fools fall in love?
why do birds sing so gay?
And lovers await the break of day
Why do they fall in love?

Why does the rain fall from above?
Why do fools fall in love?
Why do they fall in love?
Current Mood:

okay

Current Music:

Why Do Fools Fall In Love? - Frankie Lymon