SIMPLE ANSWERS TO ALL OUR PROBLEMS
Due to various factors about my physiology, I have a lot of problems trying to shake bugs that invade my system. My fever has returned, I'm still feeling sickly, although I did sleep better last night.
One of the reasons for that is an old Cajun staple:
Chicken and Sausage Gumbo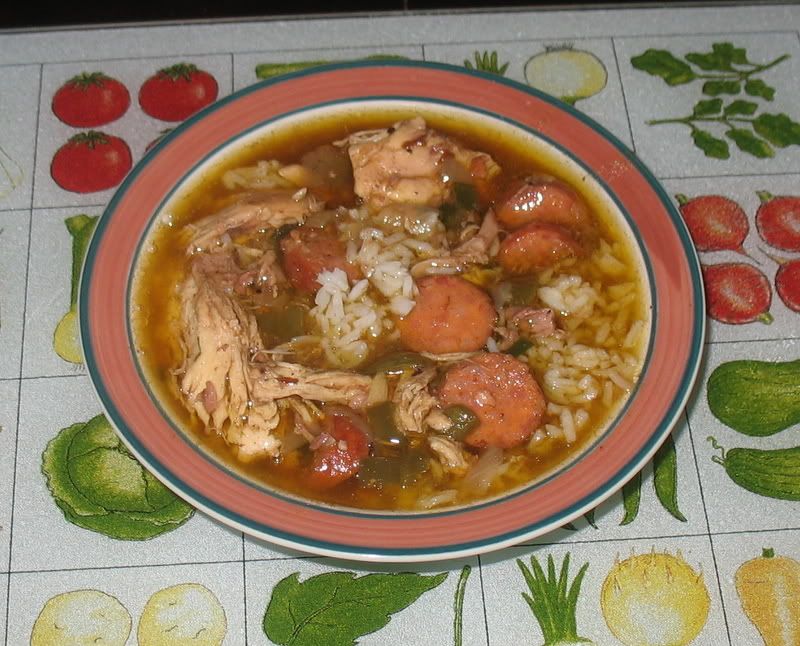 I literally could eat this every day. It is especially good and satisfying in cold weather, and it is supposed to drop below freezing tonight. Of course, I'll put up my version against any out there. Matter of fact, I happened upon the website for a nice New Orleans restaurant
The Gumbo Shop
which will ship you two quarts for $49.95.
http://www.gumboshop.com/shoppingcart/productdetails-sizeprice.asp?ProductID=62&ProcessType=5
Heh, heh, heh. I can make way more than that much for between $7 and $8. Can I warm you up with some?
***
QUOTE OF THE DAY
- AlGore really might be the key to "global warming". Every time he opens his mouth about it, the temperature drops 10 degrees. I saw they had to cancel another conference the other day because of more record-breaking freezing weather. LOL
***
She started dancin to that fine-fine-fine-fine music
Ooohhh, her life was saved by rock n roll
Hey baby, rock n roll

Despite all the amputation
You could dance to a rock n roll station
And it was all right
Current Music:

Rock 'n' Roll - Lou Reed
Tags:
Latest Month
August 2014
S
M
T
W
T
F
S
1
2
3
4
5
6
7
8
9
10
11
12
13
14
15
16
17
18
19
20
21
22
23
24
25
26
27
28
29
30
31