***
YEP ... I'M NOW IN STAGE 3 OF MY POST KATRINA REPAIRS
After a lengthy respite from major repairs (replacing half the studs and upper/lower plates of my utility room, building a hip roof over my spare room, then tearing down my damaged shingles and replacing around 2000 sq. ft. of material) I've begun concentrating on repairing the rest of my outside damage.
A couple of weeks ago I completed work making the flat surface over my breezeway water tight (hopefully) and getting the front and back ready for putting up new fascia. I installed some 90 weight mineral surface roofing material as a final covering and will go back periodically to apply more roofing cement where needed.
The last few days I spent in the back of my house where there was some damage to the corner of the overhang. The winds also tore off about two-thirds of my gutters. I removed the entire metal fascia and then tore out a damaged 8-foot section of wood fascia behind it. When I did that I unfortunately found a 2 X 4 support and 2 X 6 that were rotted on the end so I had to cut off the bad sections and splice on some good wood.
As of now, I have about a third of my gutter up and secure and plan to repair the damaged sections and have those in place in the days ahead. I also nailed up all the metal soffits that were torn loose underneath. I will eventually get some more metal fascia to replace the ones I had to remove but this is what it looks like as of now:
It's going to be strong as I'm adding extra nails and plan to add more gutter supports as well. I took a break from that (since the gutter issue will be time-consuming and difficult) and started working on my spare room. Of course I completed the roof work last year but still had all the fascia and soffits to cut and nail up. I also used some of the metal fascia from the back and as of eight o'clock tonight I have two sides nearly completed.
Here I am (I know you love to see me and it's been awhile *lol*) nailing up the soffits on the Northern side of my spare room. The very worse winds came from the NE of course and this area is the spot that took the brunt of the force. Believe it or not, as difficult as it is, it is very relaxing. Of course I've been known to have my moments: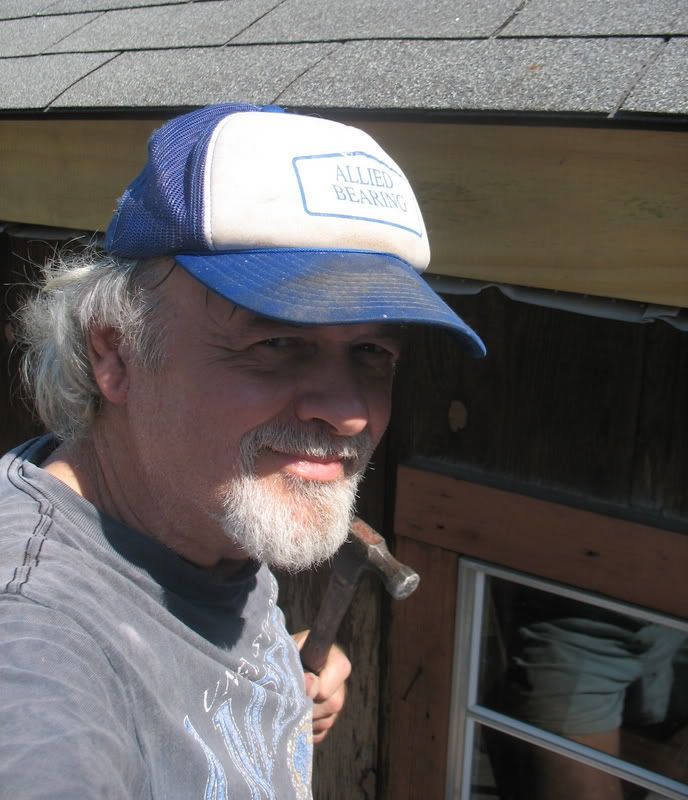 Fun huh? I'll be back to work tomorrow if God says the same. It won't be long that I'll be ready to start working on the ceilings and floors inside. My list is still very long. That said, I still consider myself a very lucky guy.
***
She came in through the bathroom window
Protected by a silver spoon
But now she sucks her thumb and wonders
By the banks of her own lagoon
Didn't anybody tell her?
Didn't anybody see?
***
Current Mood:

tired

Current Music:

She Came In Through the Bathroom Window - The Beatles