***
FROM SOMETIMES GLOOMY SKIES COME
PRESENTS BRIGHT AND FULL OF HOPE
The last couple of weeks have been a little tough and it's nice when you see a silver lining, even nicer when you see a beautiful rainbow.
Yes, even dark skies are known to smile sometimes.
Looking for that Pot o' Gold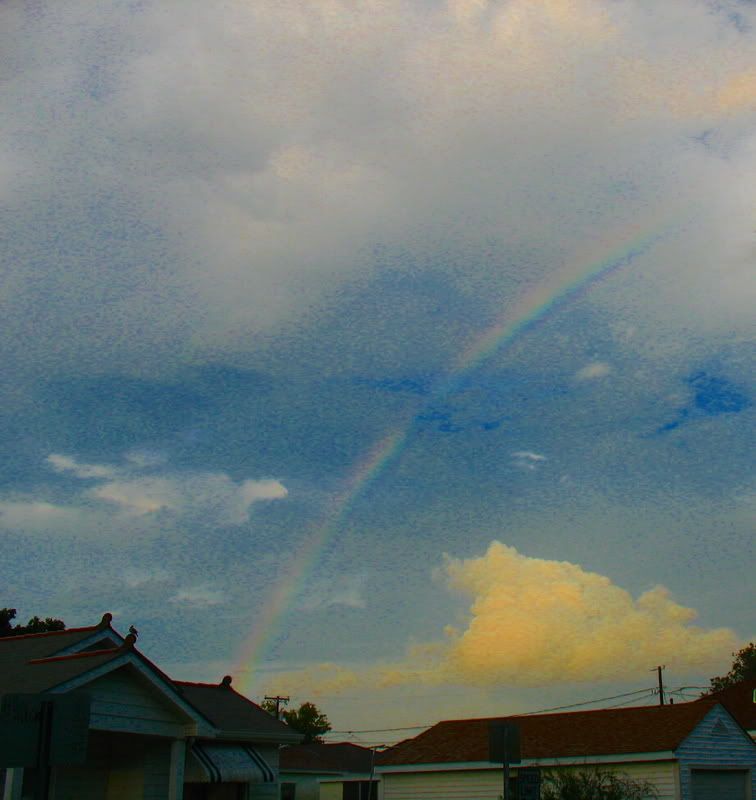 Coming home from my parents last night I was struck by the beauty of this awesome rainbow. By the time I got home it had started to fade but I was able to get this shot. I tweaked the image a little to make it a little more magical. Like it? It reminded me of how lucky I am to have my family and friends... and how fortunate I am to still be here.
It was only appropriate that the first rainbow I've seen in years happened on the eve of the birthday of my littlest lj friend
bat_guy_01
, and so I say to you today, Ian ...
Have a Wonderful Birthday, Ian!

May you always be a super-hero to your little sister and the "bestest" little boy in the world to your mom and dad! I hope you have a lot of fun tonight, and whenever you choose to celebrate your special day.

***

Na, na, na, na, na, na, na, na,
na, na, na, na, na, na, na, na,

Batman!

Na, na, na, na, na, na, na, na,
na, na, na, na, na, na, na, na,

Batman!

Batman, Batman, Batman!

*LOL*

Current Mood:

cheerful

Current Music:

Batman Theme
Tags:
Latest Month
August 2014
S
M
T
W
T
F
S
1
2
3
4
5
6
7
8
9
10
11
12
13
14
15
16
17
18
19
20
21
22
23
24
25
26
27
28
29
30
31