***
I PROMISED A FRIEND I'D GIVE IT A TRY
& I ACTUALLY THOUGHT THEY WERE PRETTY GOOD
Yep, several weeks ago I promised my friend Christine
xinexine72
I'd try my hand at a kind of Polish dumpling called a pierogi. Christine said her grandmother made the best in the world.
Since I finally had a free evening, I made my first batch tonight and this is what they looked like:
Ed's Louisiana Style Pierogis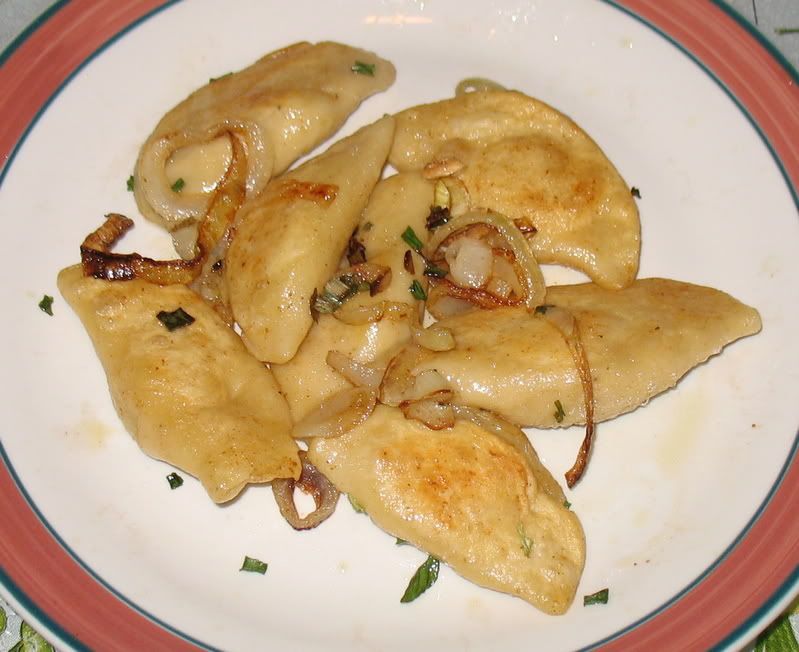 They were stuffed with boiled potatoes, cheddar cheese, cream cheese, green onion and seasoned with salt and pepper.
I boiled them first, as is traditional I think, then browned them slightly in butter and onions. The dough was slightly chewy but not hard with a little crispness to them.
I wish I had some sour cream to lather on top and I saw somewhere that sour cream makes for a good dough too. Maybe next time.
I may also try them deep fried, maybe with a touch of garlic, maybe more sauteed onion in the potatoes, maybe some crumpled bacon - or is that a sacrilege?.
Anyone know their pierogies or have any tips? I'd appreciate it if you do.
***
I'll be the ocean so deep and wide
I'll get out the tears whenever you cry,
I'll be the breeze after the storm is gone
To dry your eyes and love you warm.

That's how strong my love is, baby,
That's how strong my love is,
That's how strong my love is, darling,
That's how strong my love is
***
Current Music:

That's How Strong My Love Is - Otis Redding
Latest Month
August 2014
S
M
T
W
T
F
S
1
2
3
4
5
6
7
8
9
10
11
12
13
14
15
16
17
18
19
20
21
22
23
24
25
26
27
28
29
30
31