***
YOU'll NEVER SEE ME WAFFLING UNLESS I'VE GOT A YEN
FOR ONE OF MY BREAKFAST FAVORITES
No matter what time of day. Like tonight.
I've always been proud of my waffles. I say
my
waffles, even though I found the recipe years ago when I was in college and happened upon the recipe, in the university library, in an old magazine from the 1950's as I recall. I loved to look at all those old magazines, especially from the forties and fifties.
I added the pecans myself because, well, I like pecan waffles. Here's a batch I made tonight:
Ed's Pecan Waffles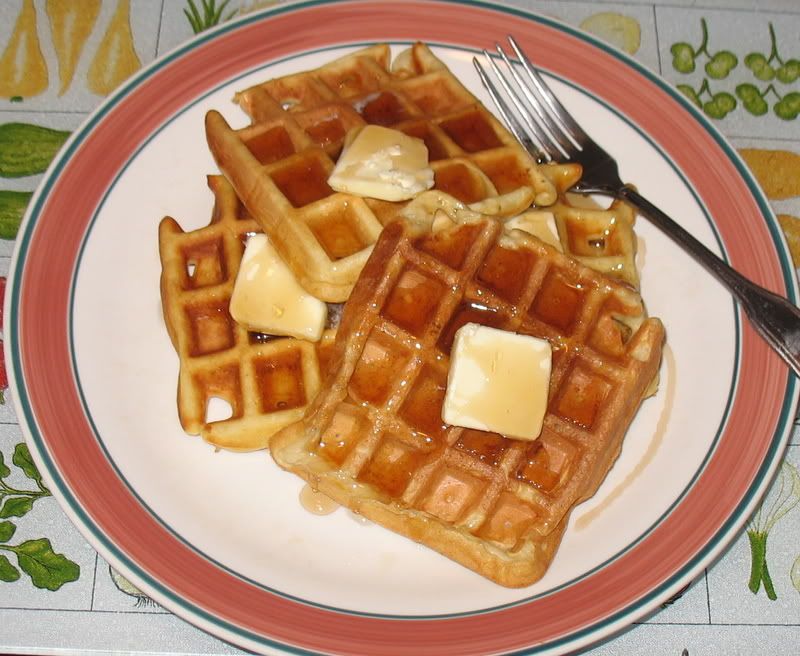 I got the idea to make them because I made biscuits the other day and they didn't rise because my baking powder was old. I make these waffles with baking soda, vinegar, and a separated egg, and they come out pretty light and fluffy and are just so delicious.
Anyone else make waffles from scratch? Any tips? No waffling now. I don't mind if you share.
***
I got the world on a string,
Sittin' on a rainbow,
Got a string around my finger,
What a world, what a life ...
***
Current Music:

I've Got the World on a String - Perry Como
Tags:
Latest Month
August 2014
S
M
T
W
T
F
S
1
2
3
4
5
6
7
8
9
10
11
12
13
14
15
16
17
18
19
20
21
22
23
24
25
26
27
28
29
30
31