Remember Vinyl?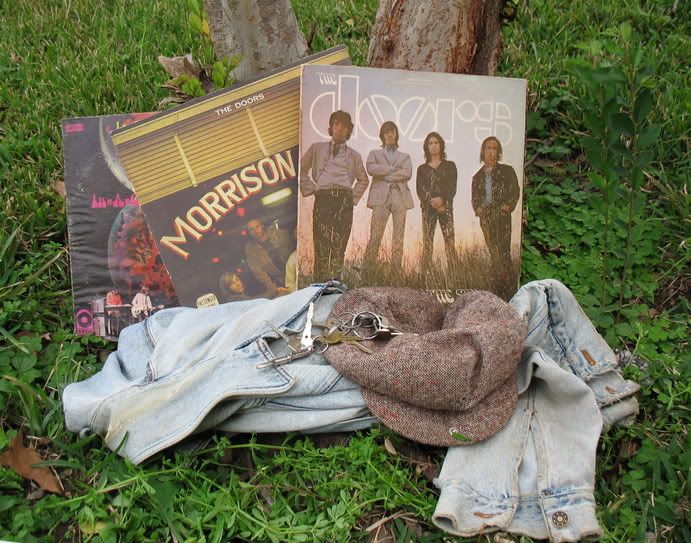 After I returned home after evacuating from Hurricane Katrina, I discovered soon after I began digging out that over 300 vintage albums had been severely water damaged beyond saving. Luckily I had moved approximately 40% of my collection to another bedroom which I had covered with a plastic drop cloth (along with a lot of other things that were important to me).
I was able to dry out a handful that weren't complete saturated and taken over by mold, among these being the first three
Doors
albums I ever bought (I think).
The Doors
with
Light My Fire
is lurking back there. They're a little wrinkly and the Iron Butterfly jacket could use some regluing, but they're not too bad. Most of my favorite albums had been moved although I still grieve over many if not all of the ones I lost.
My front yard was a checkerboard of books, pictures, records, etc. as I tried frantically to rinse off the muck and mold and God knows what, mostly to no avail, waiting for the sun to do it's work while making sure the heat didn't get to the vinyl. It's funny when you are confronted with your loss, and mine are nothing compared to some people. You'd think you'd just want to sit down and cry but you don't, at least I didn't. There's just too much to do and, if you were like me, you know you'll be doing it alone.
I think if I had seen a sympathetic face, I would probably have shed a tear or two. I didn't and still haven't, just wish I could cry for all the people who really lost so much, homes, family, friends. For me, though, in my loss, these are the kinds of things I miss most, although I'm still glad for what I've got left and happy no one in my family or any of my friends were hurt.
"
I'm gonna drink a lotta coffee, spend a little cash
Make that girl love me when I put on some trash...
"
Ya gotta love vinyl.
Current Mood:

nostalgic

Current Music:

Sugar Shack---Jimmy Gilmer and the Fireballs