***
OBAMA AUNT DISCOVERED ALIVE AND WELL IN BOSTON SLUM ...
UNCLE OMAR REPORTED EVICTED FOR NON-PAYMENT OF RENT
Barack Obama is fond of saying to us, "Am I my brother's keeper?"
First we learned that his brother George is living in poverty in a 10 x 10 shack in Kenya.
Now word comes that his lost 'Auntie Zeituni', the woman he wrote fondly about in
Dreams from My Father
has been living in a South Boston Slum a few miles from where Obama attended law school at Harvard.
Additionally, his 'Uncle Omar', also mentioned in
Dreams
was evicted from his own apartment for non-payment of $2,324.20 in rent according to the Boston Housing Court.
I thought charity begins at home. But ...
Barack wants to use taxpayer money to the tune of $850 BILLION over ten years to fight global poverty.
Before he began running for president, Obama gave virtually nothing in charitable contributions.
His running-mate, Joe Biden, has a son who is a lobbyist and family members who have benefitted financially from receipt of campaign funds but has contributed only $3,600 to charity over TEN YEARS on income of around $3.5 million.
Get the picture? Yet?
This is what most liberals are all about. They want YOUR money to spend as THEY wish.
Meanwhile, here's an example of the Obama lifestyle in the receipt for an afternoon snack a couple of weeks ago:
Room Service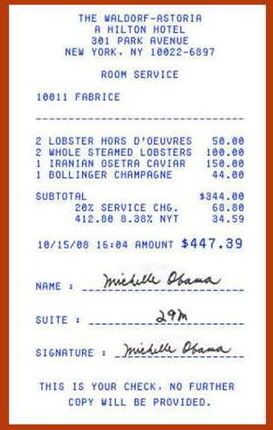 Wow! Give up a few afternoon snacks and Uncle Omar is back in his apartment. Oh right! That was probably paid for with campaign funds.
I wonder if the money came from some of those "untraceable" campaign donations ... maybe coming from the starving people in Palestine? I suppose you can't criticize Michelle too much. It must be pretty hard to spend $600 million when you're not even in office yet ... even if it is other people's money.
I hope you're taking all this in. Should Obama get elected and his "Truth Squads" be institutionalized, the Thought Police sworn in, his National Security Force implemented, the Constitution re-written, leftist judges installed, and bloggers and news sources blacklisted, this might be your last opportunity to hear the truth.
It's up to you.
EDIT
- I just got an email from the DNC (I am a registered Democrat) asking for money to fight Republican voter intimidation. *LOL*
I wonder if they accept acorns?