Coffee Anyone?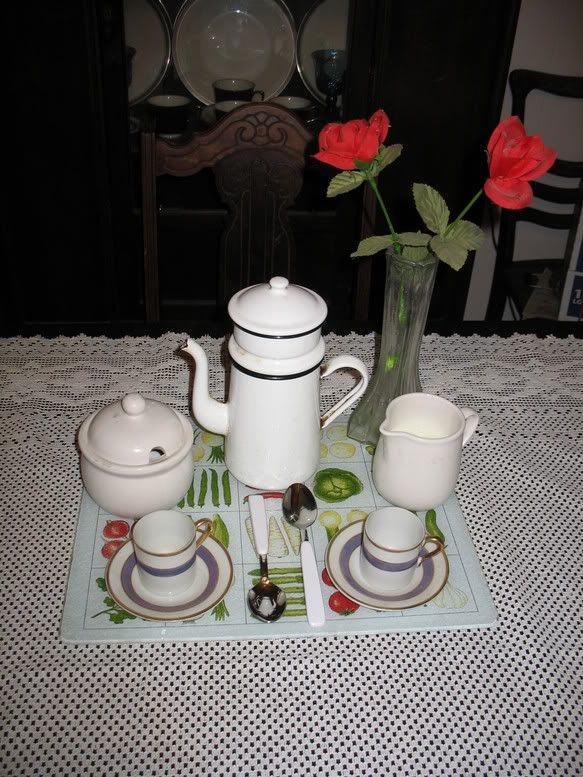 It's a little chilly and windy again today, and I thought it'd be nice to have a little cafe au lait in the midst of my chores. Actually, with everything in disarray around me, I like to make these little patches of pleasantness to create the illusion that I am still civilized.
My little 2-cup porcelain coffee pot was a gift from an old lady many many years ago. Another lady told she needed help moving some things and I gave her a hand. Of course, many people here feel you must not leave their homes (and her's was just a tiny little shack on a canal) without some gift, and she gave me this coffee pot. I think she was 80 then, and she said she had two. You shouldn't deprive people of the joy of giving, and so I accepted it (it reminded me of my Gramma's pot, so she didn't have to twist my arm too hard). I think I must get something to polish her up a little, remove some of those stains. I am too careless a man sometimes (not good).
I put out the little demitasse cups in case a lady shows up. The old French people always shared their coffee with we children (yes we had a little coffee as children) in these little cups which made us feel very special. I think about the old lady who gave me the pot, and also some of those old people we visited, some of whose names I don't even know, whenever I use my little porcelain pot.
You can have the cafe au lait as I like it sometimes (it is made with the chicory, you know?), or I have some nice evaporated milk if you prefer it that way. If you prefer black, I'll have to brew you some dark roast. No problem! If there are any children with you, I have sweetened condensed milk too. That's the way we liked it as children, although the old ladies watched us very closely, to make sure we didn't put too much. We had many sweet and tasty "accidents," much to their dismay!
So, that's my little treat for you today. I'm sorry you couldn't have stayed longer! Maybe next time I'll have something sweet to snack on too, and you'll stay longer. Stay warm!
Current Mood:

refreshed

Current Music:

In the Still of the Night---The Five Satins