***
DESPITE THE MEDIA'S ATTEMPTS TO KEEP THE INFORMATION FROM THE COUNTRY AT LARGE
Yes, folks, and the White House is getting a little concerned.
I've mentioned what's happening to three liberal friends and they pretty much dismissed the whole thing as a few kooks here and there acting stupid because that's what they hear from the liberal press
if
they hear anything at all.
Well, Obama and the media are getting concerned about a populist backlash, one that is not funded by professional organizations like the ones that helped get Obama elected and drive the liberal agenda, but by family, neighbors, friends and strangers across the nation.
There are about 1,500 "Tea Parties" now being organized.
Steeping in Cincinnati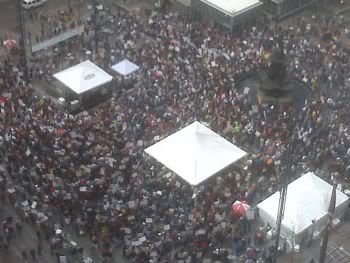 Signs of the Times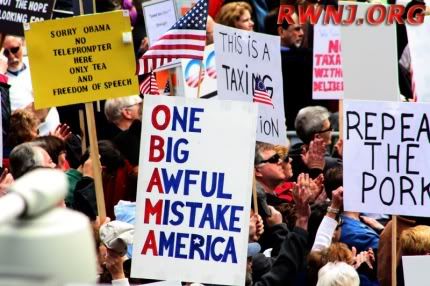 More coverage here:
http://pajamasmedia.com/instapundit/73369/
Where is the national coverage? There were 1,500 in a St. Louis rally, 2,000 in Greenville, an estimated 15,000 in Fullerton, 5,000 in Cincinnati, and momentum is building for nationwide rallies on April 15.
And hardly a whisper about it on the news and in print, except to minimize it.
This is America. This is "We the People". This is what happens when a centralized, overbearing government that wants to "control" us oversteps its bounds. This is the power of everyday, hard-working citizens.
The left is very very worried. I wonder what the President's teleprompter will tell him to say today?
***
Remember last year when the McCain camp was raked over the coals for suggesting the fundamentals of the economy were sound, how the media ran with that statement for weeks?
Well, now the White House has done an about face and is saying the same thing:
http://abcnews.go.com/Politics/wireStory?id=7085759
So, after scaring the people into submission and into going along with his leftist agenda (or trying to), the teleprompter is now telling the President to say that the "fundamentals" of the economy are "sound".
Incidentally, with regard to the current AIG bonus flap, who WROTE and pushed the AIG bailout? Who benefitted and contributed to what Party and what politicians. It starts with a "D".
It's funny how the media were unconcerned about thousands of earmarks costing tens of billions of dollars, maybe more, but are now railing against bonuses that are being paid according to legal contracts.
"Rewarding failure"? Maybe so, but isn't that what Obama wants to do in spending TRILLIONS of dollars we don't even have?
If this were a movie script, no one would believe it.