***
MY GOOD FRIENDS ED, KATHARINE, AND THEIR SONS 'BUDDY' AND 'BOOMER' MADE IT DOWN TO NEW ORLEANS FOR TWO SHORT DAYS
It was all too quick. Ed
mr_ed1966
, a professor of English and co-author of the book
Apocalypse Jukebox
, was here for a convention and book-signing so naturally brought his lovely wife
miss_kat_1968
and 'kids' with him (do you think they'd have let him go alone?).
Thankfully we were able to squeeze some hours in together and, although I wished we had had more days to explore, we managed to have just the greatest time together.
I was only able to get away for 2 hours Friday so I met the guys (and Ed's co-author friend Dave and his cute-as-a-button daughter) at the Hotel, walked down Camp Street, then had lunch at
Mother's
on Poydras St.
Mother's
was a little hole-in-the-wall po-boy shop when I was a kid but has expanded to a full-sized restaurant ... it's still
Mother's
though, and is known mostly for it's roast beef po-boy and another creation the
Ferdi
.
We try not to tell tourists about places like this but word gets around. I wish it was like it used to be but that's "progress" I guess.
I had seafood gumbo, by the way, and a
Barq's
, and everyone else got an assortment of po-boys, sandwiches, and jambalaya.
I had to leave but told them about some things they might want to do, including taking the St. Charles streetcar (trolley for some of you) down to the Riverbend area - which they did. It's wonderful just to get off and on and wander around the neighborhoods in and around the Garden District.
On Saturday I met up with them after they checked out of their hotel on Canal Street. Their boys wanted to visit one of our "Cities of the Dead (cemeteries) so I directed them to the Metairie Cemetary, asked them tom park near the corner of Canal Street and City Park Avenue. I picked up some ice, soft drinks, and Hubig's pies (which they had fun "sharing"), and met them there. These are some of the pics I took there:
Strolling Through a City of the Dead
Aside from just looking at the tombs and grave sites, it's interesting to read the inscriptions and imagine the history of the people, note their ages, their nationality ... so many children and young people gone way too soon.
Patrick noticed one old tomb that was at least 150 years old by the inscriptions had an opening in the top and, of course, had to peek:
A Peek into the Dusty Past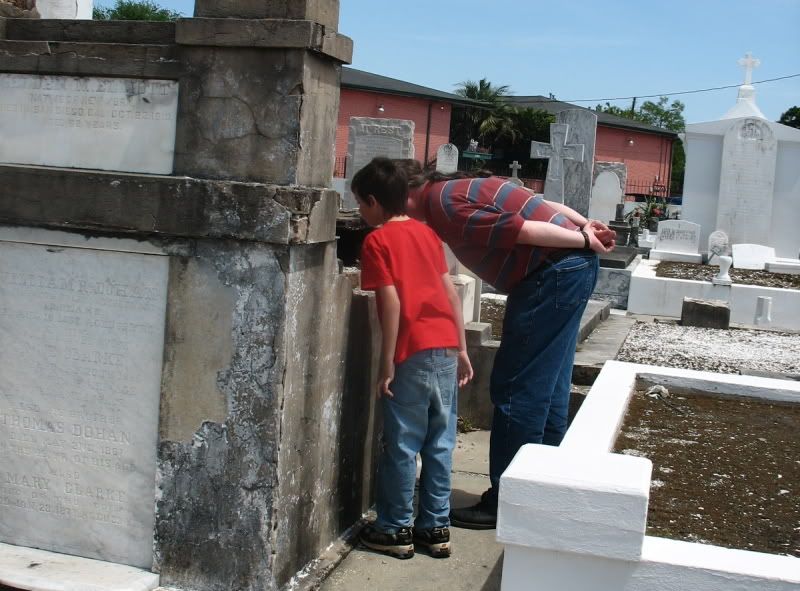 What did Patrick see? You'll have to ask him. I didn't dare, although I had the distinct impression that a ghost might have tapped him on the shoulder from the way he turned around.
Like I said, it's fascinating to read the inscriptions of the people interred here, and this is Katharine, obviously engrossed in taking in the short histories of several generations of people buried here:
Beloved wives, sons, daughters - gone too soon and sadly missed for a time ...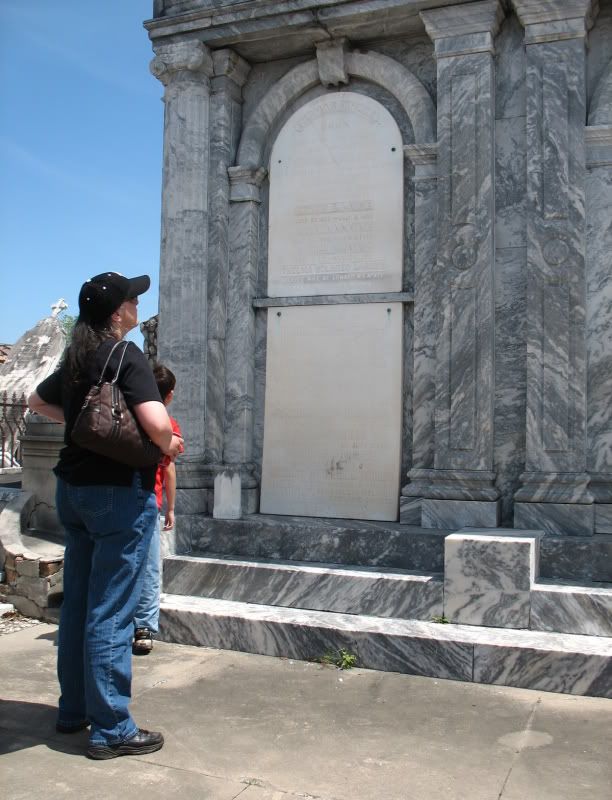 Now those who missed them are gone too.
More pics to come as I have time, including watching the boys engaging in the kind of mindless fun I experienced as a kid before the advent of video games and 24 hour TV - kicking crawfish heads into the Lake. They had a ball, and so did a few sharp-eyed visitors they attracted.
Current Mood:

cheerful