punkin_bread
and her husband T), who is growing up way too fast. Hope you love your new puppy and get all the gifts, fun, and happiness you deserve! I love you!
PUPPIES ARE LUV
HAPPY BIRTHDAY TAY!
March 5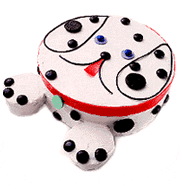 My Top 25 plus 2 Ghostly Movies
Here, as promised, is my list of favorite Ghost Movies. There are a small number of funny and "friendly" ghosts here, actually some of my favorites. The ghost genere, I think, is overall a somewhat disappointing one. I hope to write my own ultimate ghost story one day, the way I think I'd enjoy one. We'll see about that.
Did I miss some good ones I have seen? Probably. I should mention
Play It Again Sam
, not a ghost movie per se, but one that features the "ghost" of Bogart in several scenes. I loved that, of course. Is there one or two or more you love I may not be aware of? I hope so, as I am always looking for new gems. Let me know what you think. Okay?
Special note: Don't miss the terrifically hammy Charles Laughton and the adorable and talented Margaret O'Brien battle each other to steal scene after scene in
The Canterville Ghost
! Too wonderful!
Create your own Movie List @ HotFreeLayouts!
*****
It's dark and creepy when I turn the lights down here. I've got plenty of popcorn and snuggle space in my living room too! Any brave souls (or soul-less ones) out there, not too afraid of things that go bump in the night? I could tell you some stories! ***evil laughs***
Tags:
Latest Month
August 2014
S
M
T
W
T
F
S
1
2
3
4
5
6
7
8
9
10
11
12
13
14
15
16
17
18
19
20
21
22
23
24
25
26
27
28
29
30
31