***
SINCE IT IS NOT IN THE INTEREST OF THE MSM AND THE GLOBAL WARMING ALARMISTS
TO REPORT THE TRUTH ABOUT ALL THAT ICE AT THE NORTH POLE ...
And nope ... this is not an April Fool's joke!
For each of the last three years I've predicted increasingly harsh winters and higher arctic ice levels and have been proved right.
Over the last five years Global Warming Alarmists have predicted more and greater hurricanes, hotter summers, milder winters, more ice loss and thinner ice in the Arctic and, you remember the stories, an
ice free
North Pole within a few years.
Well, check out the newest Arctic Ice Extent graph yourself:
Arctic Ice Levels Near Normal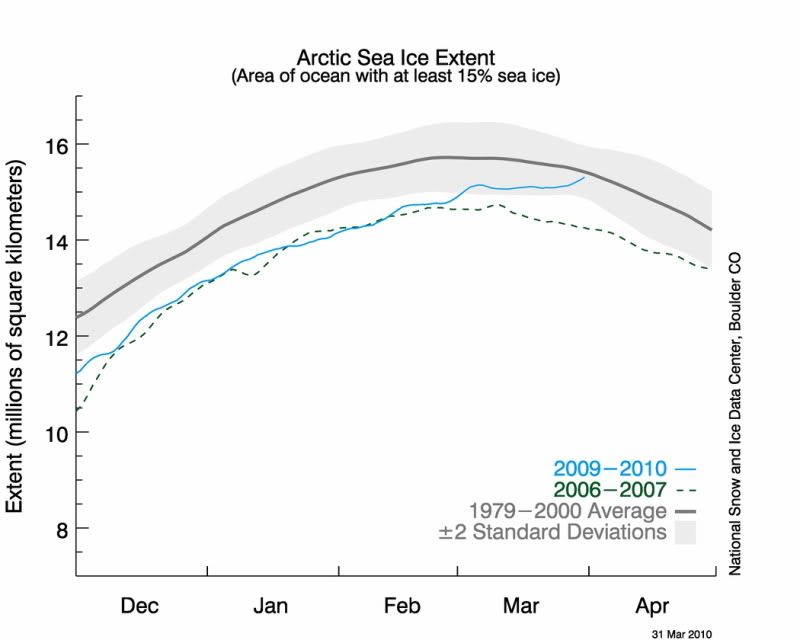 My oh my! How is all that ice continuing to form? How can so many "experts" be so wrong?
Why is the media not telling you what's happening ... or do they figure you can simply look out your own window and see for yourself.
And YET! This administration continues to ignore the scandal that is ClimateGate and the hoax that is the Global Warming movement, continues to claim the Earth is warming because you use incandescent light-bulbs and drive a gasoline operated automobile, and continues to push for a massive Cap and Trade bill to add to their disastrous Government Takeover of Healthcare to initiate total control of every aspect of your lives.
As I pointed out the other night, this whole "Drill Baby Drill" feint is a hoax too, and I will be proved correct there too when Obama starts the push for his Cap and Trade agenda ... probably through the EPA and bypassing Congress!
Wake up, friends. Use your head. This is what happens when you elect a radical ideologue who has absolutely no idea how the real world works, who has a collection of radicals and true believers, political hacks in Congress, the bureaucracy, and the media all intending to destroy the Constitution and private sector and to drag you screaming and yelling into their authoritarian Utopia.
Btw, have you noticed that after all that dismissing of warnings by me and others that this is all about socialism, redistribution of wealth, etc. that more and more media, newspapers, politicians, bureaucrats, leaders of interest groups, etc, are now saying that is what indeed is happening and, in the case of one of President Obama's advisers, Al Sharpton, that this is exactly what people voted for!
NYT Admits Healthcare is About Redistribution of Wealth!
Well, you didn't fool me ... and I hope you can keep warm when the government takes over the energy sector, and get your pain pills when Socialized Healthcare is a reality.
QUESTION of the DAY
- What happened to the Swine Flu? (Never let a "crisis" go to waste) ;-)
Current Mood:

hopeful