One of the awful things about losing friends you made when you were younger, aside from missing them so much, is that you lose a part of your history with them. It's hard to make new friends as it is, but even friends you're lucky enough to make later can only have an incomplete sense of where you came from and who you really are. We can hide many of our flaws and our past indiscretions from people that are new in our lives, but the ghosts of our lost friends are always there to remind us of how imperfect and, in some cases, how truly wonderful we are.
And so I run with ghosts.
"Fresh" from my early morning 2 mile run with a two day growth, pink cheeks and an "I don't care" attitude. Believe it or not, I'm making progress!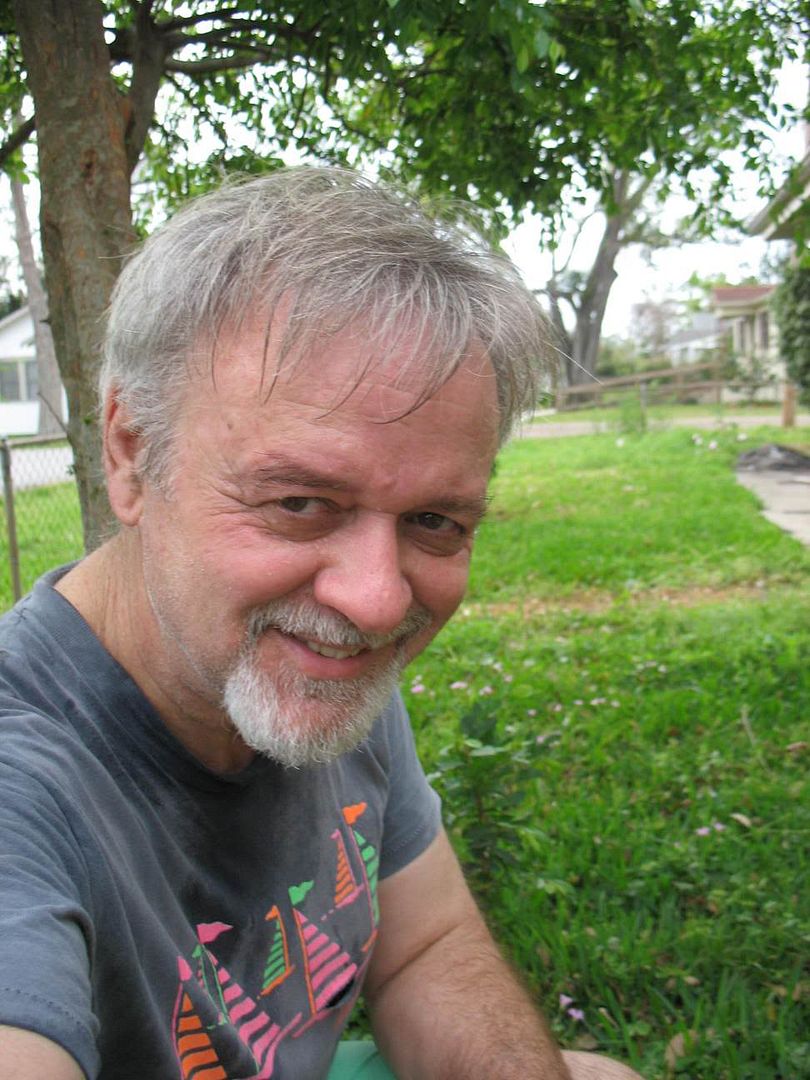 I do other things with them too, like working in my yard, repairing my roof (where I am always closer to Heaven), whenever I'm writing, and cooking, and sharing special dishes and treats (like my specialties --- pralines and peanut butter fudge). I've always loved cooking things and sharing them with others, and get a kick out of surprising someone out of the blue. I try to do that now with the people I know, especially since I can't share my creations with friends that are gone.
In a way, I like to think that they get to experience the fun of that sharing too. Yes, they're with me constantly in one way or another. They sometimes visit me in my dreams, I often talk to them, and occasionally I think they make their presence known to me --- sometimes in quite surprising and playful ways.
But most of all, I love to run with them.
I cared for them each in a special and different way. For some, I was able to express my love easily, for others, circumstances prevented me from doing so openly --- and yet, I think the love came through. I'm not always aware of them while warming up, or even after a lap or so. But it usually isn't long after I begin to feel frustrated with my stiff joints and weakened muscles, the results of not being able to exercise like I'd want due to my chronic physical ailments, that I feel them coming up behind me.
The guys were so special to me, and when I hear their voices and feel their smiles, for a while I forget about the drudgery of getting into shape and just enjoy the experience of running free in the open air with my old friends. My breathing becomes a little easier, my legs not so heavy, and a hint of a bounce returns to my gait. We talk of old times, and what I'm going through now. Sometimes they tease me, and I always give it back to them. It's like it always was.
To anyone watching, I probably look pretty pathetic, trying to get back into running condition after a nine month layoff, but for a few minutes I feel like I'm running on air. The track I run on is usually hard and angry against the soles of my feet, rising up against me as if trying to discourage me, and to beat me down. At times like this, however, it is oh so different, and I feel like I am the one in command, with time and space and distance under my control.
Sometimes my friends' stay is lengthy, sometimes all too brief, but always welcome and memorable. Usually when they leave me, I'll feel a little letdown, but if I'm lucky, like today, I'll find my other ghost friend waiting for me at the finish line. She never runs with me when she does appear, but is always there at the finish line. "C'mon, one more lap!" she'll say, red hair flying wildly in the breeze, an ace bandage wrapped around her trick knee, always a white towel in her hand which she sometimes twirls around her head. I tell you I can see her so clearly.
I pass her by for that final lap, picking up the pace ever so slightly (that's all I can do at this stage), so I can hurry and come around to see her one more time before she's gone. It's usually on a pretty day when I see her. I'm not sure why that is, but she always did seem to make the days so much brighter for me. I make the final lap thinking of her standing there, and as I make that final turn I see her once again, for sure, still laughing, and shouting for me to "pick'em up." I always want so badly to run straight to her and give her a big sweaty hug and kiss on her cheek, but she's never there when I reach the finish line.
Sometimes I get closer than others. Today I almost reached her. I got close enough that she playfully tossed me that white towel she was holding, and then she was gone. I'm still so glad that I saw her, even if it was only in my dreams. One day though, I hope I'll run fast enough and far enough to finally reach her. And so I keep running, sometimes in fits and starts, but as long as I can lace them up, I'll be out there to try again. I've got all the time in the world.
And so I run with ghosts.
Sometimes I think it would be nice to share that experience with someone a little less ethereal, but you play the cards you're dealt, and I still enjoy their company so much. You may think that a little odd. I think it's a little weird sometimes myself. If someone actually asked me if I believed in ghosts, I'd probably say no. After all, I do know what a vivid imagination I have, and how much I wish some things were different. Maybe you do too. I'd still like to believe it could be true, or that I could change the past, although I know that if you change one thing, you change many, if not all.
Yes, time and circumstances and situations have always seemed to place roadblocks in front of me, some I've been able to move around, others not. I'm certainly not unique in that respect. But I'd like to think that perhaps, in spite of my many disappointments, despite my losses, I've been fortunate in that I've been able to experience many wonderful and unique things in my life, having had such good friends, things some people could only dream about.
There is a sense of melancholy that is my constant companion. It tempers much of the joy I still experience in my life, and I have had my moments. I'd like so many things to be so different, but I suppose I wouldn't be who I am today without them (for what that's worth), and, I must admit, with all modesty, it's not very many people who can say, "I run with ghosts."
I RUN WITH GHOSTS
Current Mood:

drained

Current Music:

Why Do Fools Fall In Love? ---Frankie Lymon