***
IT'S A START, CHER!
I got a little done today although I had to shut down due to some threatening clouds. Hopefully they'll pass and I can let my roof breathe a little so that it can dry out some from the previous rains we've gotten.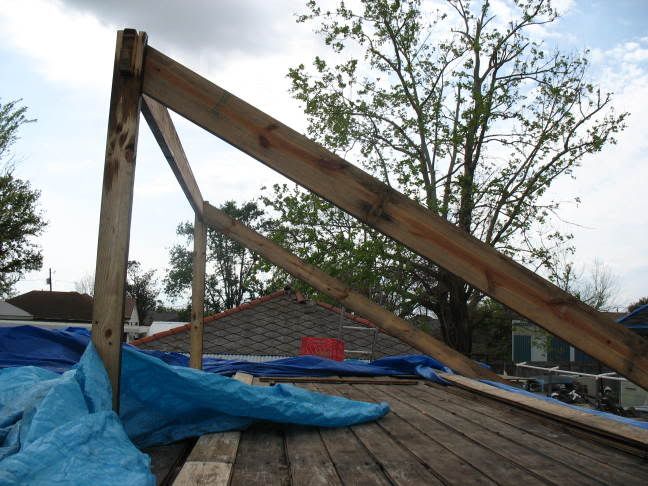 Now, it doesn't look like much but I trimmed off the damaged ends of the rafters I exposed after tearing down the gutters, fascia, and soffets yesterday and today. I have the center peak that all my new rafters will tie into so I hope to be doing those on the next few days. The shape of the roof when then become more obvious.
All those boards at the bottom are the tongue-and-groove boards I ripped out a couple of months ago. I hope to have enough good ones to be able to cut them down to use for sheathing for the top of my roof once the framing is done.
Fun! Fun! Fun! Don'tcha think? Another day without eating, however, so I'm off to pay a bill and get a bite to eat. Hope everyone is having fun too!
Current Mood:

cheerful

Current Music:

Do You Love Me? ---The Contours
Latest Month
August 2014
S
M
T
W
T
F
S
1
2
3
4
5
6
7
8
9
10
11
12
13
14
15
16
17
18
19
20
21
22
23
24
25
26
27
28
29
30
31