***
UMBRELLA-GATE?
Our Commander-in-chief has trouble escorting the First Lady through a gate in New Orleans today while holding an umbrella.
The Big Un-Easy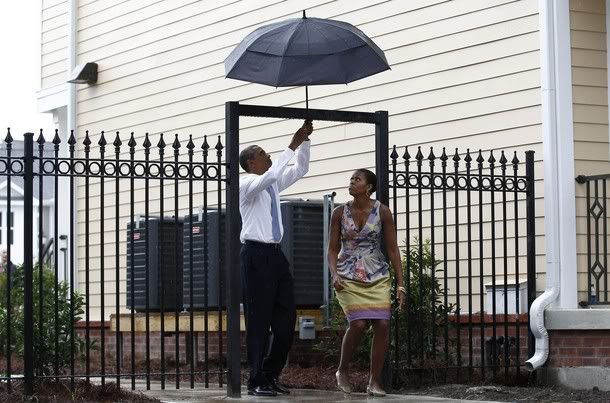 He'd never have survived Katrina!
Reportedly, the First Lady (seen here ducking for safety as her husband experiences the intricacies of hurricane preparedness first hand) suggested future gates for new homes be made higher.
That was after the President elicited a few chuckles (the crowd thought he was kidding) by suggesting the walkway be torn up and that steps be installed under the gate … which would not only save or create additional construction jobs, he said, but would also pump additional money into the economy by requiring extensive changes to the drainage system due to the probable flooding which would occur under the gate during heavy rains.
Or, as one of a small group of 3rd graders invited to the tour, Thaddeus Arceneaux, suggested to the President, he might just turn the umbrella sideways a little and slip it through or (as his baby sister piped in) he could just close it half-way to pass through the gate.
One thing's for sure … the future of our country is in good hands.
Thanks to bright young fellows like Thaddeus that is, who, I just heard only minutes ago, was appointed "Raindrop Czar" and promised a 60 million budget to study obstacles and prevent obstructions to pedestrian traffic in New Orleans - rain or shine.
Current Mood:

amused
Tags:
Latest Month
August 2014
S
M
T
W
T
F
S
1
2
3
4
5
6
7
8
9
10
11
12
13
14
15
16
17
18
19
20
21
22
23
24
25
26
27
28
29
30
31