***
READY TO START PUTTING UP ROOF SHEATHING
The weather continues to be beautiful, sometimes a little hot but with enough partly cloudy skies to provide me with occasional shade and nice breezes. I tore out one rafter I found too much rot on the end and replaced it with some of the good wood I bought yesterday.
Once that was done, I took measurements of the shortest rafter overhang, measured and scribed the remaining rafters to the necessary length and angles, then sawed them off with my SkilSaw. It wasn't too bad except for the sawdust you get blown in your face and eyes. They're a little shorter than I'd intended to make them but that's life.
Here is how everything looks so far as of 5 p.m. Friday: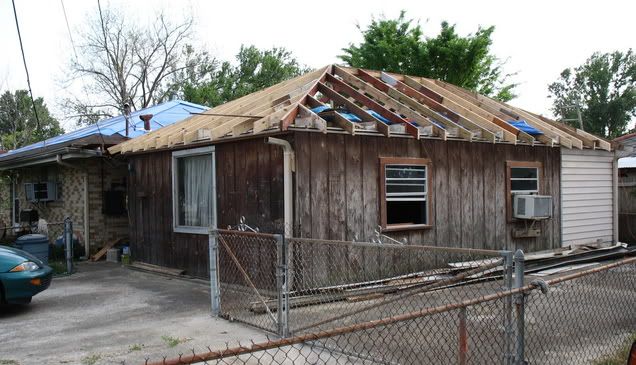 The structure on the right is the one I've been working on. It is basically a guest room/play room with a utility/laundry room in the back where you see the siding. I had to replace much of the structure in back (many studs, upper and lower plates) before starting on the roof. I will also have to do a lot of work on the outer walls and siding later on.
A lot of the rough-looking siding around the rest of the building received damage and was torn loose from the walls. I re-did the window frame in the front window which is primed and ready for painting. The two side windows need work too. I may either re-do all the siding or repair the old and coat with a new stain.
The brick building to the left is the main portion of my home. Three quarters of the roof there received considerable wind damage as well (the blue tarps are still there). I will have to remove all that material later and replace it as well. The guest room, of course, received the most damage and the inside was totally trashed after the ceiling collapsed and the utility room was damaged by a tree. All of the insides, from ceiling to floor, need replacement. I can't do anything about that (or the internal damage to the inside of the rest of my house --- water damage to ceilings and floors) until the roofs are secure.
So, you see, I am really only just getting started, and that's why I'll be preoccupied with this project for some time. It's fun, in a way, but I could sure use a little less fun these days. **lol**
Current Mood:

groggy

Current Music:

Walk Don't Run - The Ventures