***
WHEN THE WEATHER TURNS COOLER IT'S TIME FOR THOSE LONG-SIMMERED DISHES THAT WARMED MY MOM'S KITCHEN & MADE US BUG HER OVER AND OVER WITH, "IS IT READY YET?"
Yep, one of the reasons people come to New Orleans in particular and Louisiana in general is to indulge in our Cajun and Creole specialties.
Near the top of the list is our famous Red Beans and Rice which was basically a wash day meal because it was so simple to prepare and required only occasional stirring and adding more liquid now and then.
Long slow simmering is the key and this is the batch I cooked today which I began cooking at around 12:45 and sat down to eat around 6 p.m.
Here are some pics showing the stages from starting when I sauteed the onions, celery, green peppers, garlic and seasonings until I ladled it out over steaming rice: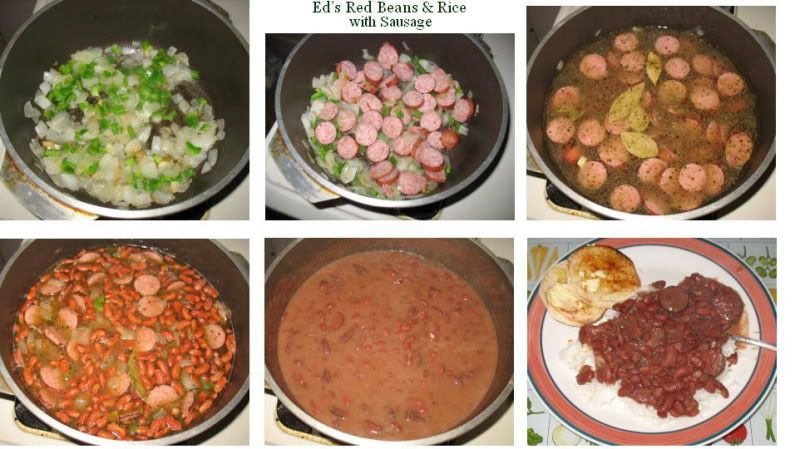 By the way, the onions, celery and green peppers are called "The Trinity" and form the base of so much of Louisiana cooking.
I almost never get red beans in a restaurant because I can make it at home and it is usually so much better (and way cheaper to make) than what I can buy.
There's no reason to have to come here to eat it either (although you'd be perfectly welcome here) since you can make it yourself too - if you are motivated and have a few hours to spare.
Remember - long slow simmering to make them super tender and creamy and people will think you are quite the Louisiana chef.
Just don't tell them you were washing clothes and cleaning up the house while it was basically cooking itself. ;-)
Tags:
Latest Month
August 2014
S
M
T
W
T
F
S
1
2
3
4
5
6
7
8
9
10
11
12
13
14
15
16
17
18
19
20
21
22
23
24
25
26
27
28
29
30
31