***
IT EXPLAINS WHY SO MANY OF OUR LIBERAL FRIENDS, AS THE GIPPER
ONCE OBSERVED, BELIEVE SO MANY THINGS THAT AREN'T TRUE
These people are not very smart
Ironic, isn't it?
In the same week that once-respected magazine
Newsweek
(which was sold for $1 a couple of years ago) ran a story about how conservatives are so dumb, the liberal media explodes with dumb mistakes like the following to accompany the usual misinformation and hiding of real news and facts from a public that needs as much information as it can get.
And so telling … giving that the author of this hit piece is the same guy who wrote hate-pieces on conservatives like Sarah Palin in which he actually advanced the theory that she did not give birth to her last baby Trig.
Yep, consider the following examples of liberal stupidity in the media.
Below, in the top graphic,
MSNBC
's pretend conservative Joe Scarborough and the vacuous Mika Brzezinski discussed these poll results prepared by their math-challenged graphics department with N.J. Governor Chris Christie .
Liberal Math ... and How MSNBC Stupidly Claims Obama
Only increased the Size of Government by THIRTEEN Employees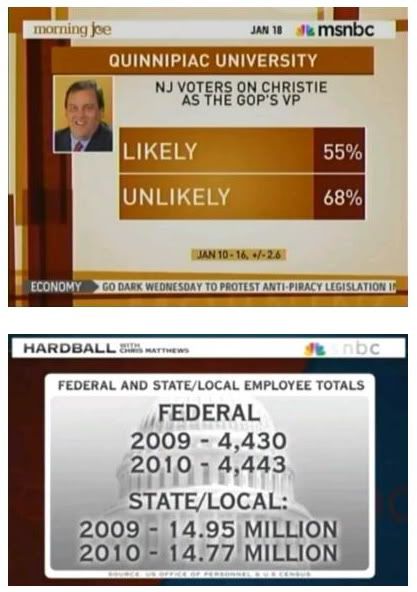 Uh … you DO see the error, right? ;-)
That's 123 percent, guys!
Okay, moving on … and this one is WAY better and MUCH more disturbing.
Chris Matthews, also of the crack
MSNBC
team, did an ENTIRE segment about how all those vicious and scummy conservatives have been lying about how Obama has grown the federal government.
Well, I guess if liberals can claim unemployment hasn't increased, that there actually have been draconian cuts in spending, that the economy is improving, and that Obama is a moderate, then I guess they can say with a straight face that the size of government is shrinking.
Matthews lambasted conservatives saying:
"I know it's always great rhetoric to say the government is ballooning, exploding with people. The government is getting bigger and bigger to this leviathan. And it's not."
Then, Matthews presented the second chart above and laughingly argued that Obama had only increased the federal workforce by THIRTEEN EMPLOYEES in the first year of his term.
Matthews incredibly made the stupid assertion that there were only 4,430 federal employees at the end of Obama's first term … up from 4,417 in 2009.
Problem is the chart represents their number in thousands of employees and there were actually over FOUR MILLION federal employees in 2009. That increased by a net 13 THOUSAND … even with the massive layoffs of postal employees who I think are considered federal employees.
Wow, imagine how excited Matthews will be if Obama gets a chance to lay off 80,000 military personnel!
If indeed the net growth was offset by layoffs of our postal carriers, imagine the number of bureaucrats and regulators hired to make our lives miserable after Obama grew government spending by nearly 25%!
But of course Chris Matthews is oblivious to the reality he actually lives in, and facts, as we know, are like kryptonite to a liberal.
Yep … these are the people who control the dissemination of "news" and who, unfortunately, actually influence the way people think.
It makes you wonder.
It's a given that most people have neither the time nor the interest to educate and inform themselves about what's going on around them … and the propagandists thrive on this.
Which begs the question, "Are they really that dumb or just clever?"
It's a little of both, I think, with heavy emphasis on the former and just enough of the latter to exploit the gullible and ill-informed.