***
IT'S BEYOND BIAS AND SPIN NOW ... THE MEDIA ARE ACTIVELY PROTECTING THE GUY THEY HELPED PUT IN OFFICE AND ACTING AS CAMPAIGN SURROGATES TO HELP HIM AND ATTACK HIS OPPONENT
Yes ... that's not actually new but it is now so off the charts it endangers the foundations of free speech and the underpinnings of America is we know it and how it was founded.
Remember ... to the utopian ideologue, the progressive "mastermind", the statist, "democracy" is just a vehicle to get you where they want to take you ... and then they get off.
Ask those who bought into the so-called "Arab Spring". Or Castro's Cuba. Or Chavez's Venezuela.
Anyone Who Follows the News Objectively Has to Realize What's Happening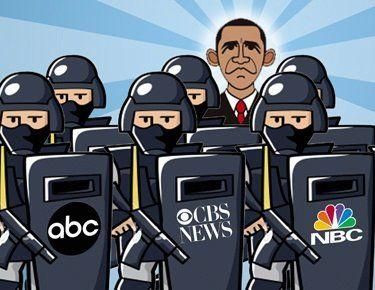 Hat-tip
NewsBusters
for cartoon.
We've exposed media bias so often it should not be necessary to have this conversation, and indeed, trust in media is at an all-time low.
But STILL, the media deny they are biased and many people fail to understand the depths to which they have sunk.
Or rationalize the overwhelming liberal bias by saying "both sides do it".
And the bias is not just what they report and how but what they DON'T report or under-report.
The word is out about massive taxes coming and the media are not interested.
Global warming is becoming a subject of widespread ridicule but they continue the narrative supporting it.
The Arab Spring and the rise of Islamist extremism, directly tied to Obama's naive "Cairo Doctrine" or whatever his foreign policy is supposed to be, is a DISASTER but the press is more concerned with Mitt Romney's taxes.
Speaking of ... Mitt Romney is "caught on tape (recorded illegally) telling the truth about people who are locked in for Obama and the media go hyperbolic playing the (now we discover "doctored" tape) and use it to declare the campaign over ... with not a bit of concern as to its accuracy, authenticity, reliability or context.
Meanwhile, a tape of Obama emerges in which he says he's in favor of "redistribution" of wealth and there is a collective yawn.
The SAME media that refused to broadcast those
ACORN
sting tapes by James O'Keefe have NO PROBLEM playing the illegal Romney tape EVEN THOUGH IT HAS NOW KNOWN TO HAVE ABOUT TWO MINUTES MISSING) immediately and again and again and again totaling about 90 minutes in coverage.
The Obama "redistribution" tape?
The networks give it about 6 minutes of generic apologetic coverage and some refuse to air it because they have not independently "authenticated" it.
Even though the White House admitted it was legitimate!
Press agents.
That's what the media have become. Press agents for Obama and the Democrat Party.
Think they'll report the latest Obama gaffe ... "he can't change Washington from the inside"?
And Romney's clever retort that come november he can start changing it from the outside?
Oh, of course not? Report something that might hurt Obama and make Romney look good and presidential?
Not what good "press agents" do ... is it?
And they get away with it because one side believes in winning at all costs and by whatever means necessary.
And that bodes very ill of our future should this ideology, this group of elitists, gain full control of this country in 7 weeks.
They want almost total and complete control of YOUR lives, your liberty, and they want to convince you to give it up freely and of your own choice.
And remember ... if you did nothing to stop them ... don't bother to cry and whine down the road when you finally wake up to what you've done.
The rest of us won't want to hear it.
Current Mood:

angry