***
I PREDICTED THE MEDIA WOULD BE PUSHING 'OBAMA, THE COMEBACK KID' AS EARLY AS THE MIDDLE OF THE FIRST PRESIDENTIAL DEBATE IN DENVER ALMOST TWO WEEKS AGO
Just for the record ... because I'm always being told I never said things I said and accused of saying things I never said.
Here it is from October 3, 2012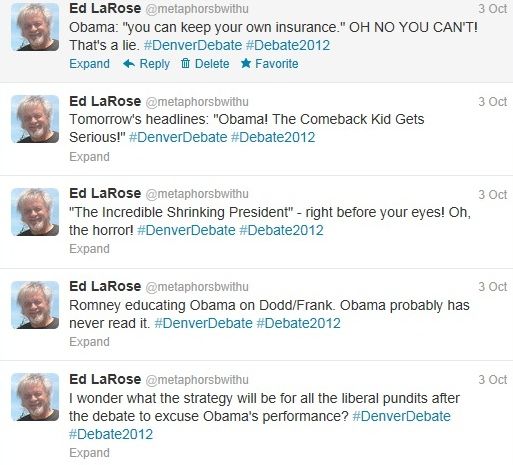 No matter what Mitt Romney does tonight, the media have their stories written and are ready to hit the "SEND" button.
The stage is set.
"Undecided" voters chosen by Gallup (which has been harassed for weeks by Obama strategist and hit-man David Axelrod and the Obama campaign) to submit questions.
Another liberal activist moderator, Candy Crowly, who has refused to abide by the rules and will select the questions and, in violation of the rules, will do follow-ups.
And unless Obama has a complete meltdown or Romney is successful in working in points Crowly, like Raddatz last week, will try to avoid, Obama will be declared the "winner" and the "Comeback Kid."
Of course you all know by now ... watch and listen with your OWN eyes and ears because you cannot trust the liberal media.
Latest Month
August 2014
S
M
T
W
T
F
S
1
2
3
4
5
6
7
8
9
10
11
12
13
14
15
16
17
18
19
20
21
22
23
24
25
26
27
28
29
30
31