***
AND HERE IT IS AS I PROMISED
I did a little post on the All-American cheeseburger yesterday, and I promised to put up a pic (if I fixed myself one) of one of my specialties, my bacon-bleu cheese burger. I hadn't had one in a while but, thanks to
miss_kat_1968
, I went out and invested a small fortune to get the ingredients. Like I said yesterday, I'd do anything for my friends.
Here it is (vegetarians beware):
ED'S BACON-BLEU CHEESE BURGER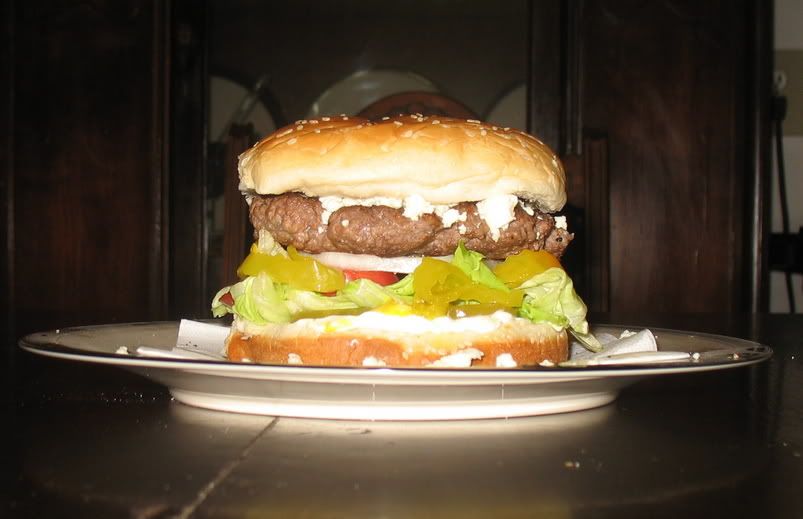 Even though I didn't have any guests, I broke out the good good china. I think it warranted that. Just in case you're interested, it's made of: a toasted sesame bun, mayonnaise, mustard, 3 bacon slices, 3 dill pickle slices, mild banana peppers, lettuce, tomatoes, onion, hamburger patty, ketchup, and crumbled bleu cheese.
I sprinkled a little more bleu cheese on the plate to nibble on as well. The only bad thing was that I had no one here to share it with. Too bad! If and when people sit down at my table, I have to say I treat them very well.
C'est la vie
.
Eileen, I know for sure you'd be here if you could. Wish I could zap one down to Florida right now. Maybe Mike can fire up the grill real soon.
Everyone else ... I'm still here.
You were a girl of many charms - Oh, how I loved you in my arms
I never thought that you would ever go - 'cause I loved you so

Oh, uh, Susie darlin'
I thought you knew
You were all the world to me
All my dreams come true
Have a nice evening, everyone! :)
Current Mood:

content

Current Music:

Susie Darlin' - Robin Luke
Tags:
Latest Month
August 2014
S
M
T
W
T
F
S
1
2
3
4
5
6
7
8
9
10
11
12
13
14
15
16
17
18
19
20
21
22
23
24
25
26
27
28
29
30
31