***
MY GODCHILD, STACIE LYNN, HAD A LITTLE GIRL THIS MORNING!
In Louisiana, that makes me a
Grand Parrain
! The little sweetheart weighed in at 8 lbs. and 4 oz. and measured 20 1/2 inches long. She slept all the while I was there except for what sounded like occasional giggles, singing, and a sneeze or two. She must have been worn out from the trip because she hasn't had much of an appetite yet. Of course, she's only been here a handful of hours.
Here are a couple of pics after she got cleaned up a little:
AN AMAZING JOURNEY!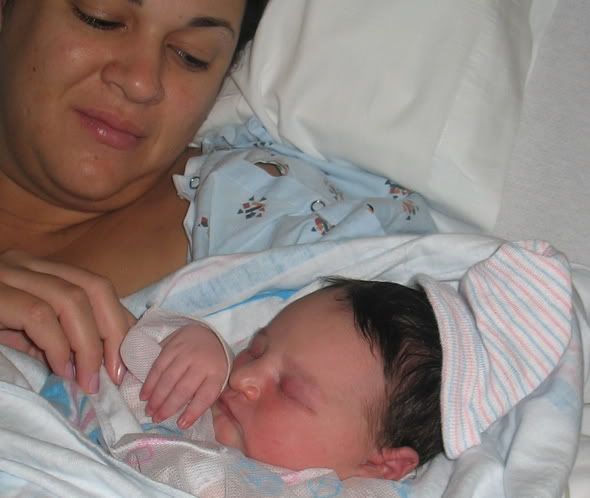 GETTING A GRIP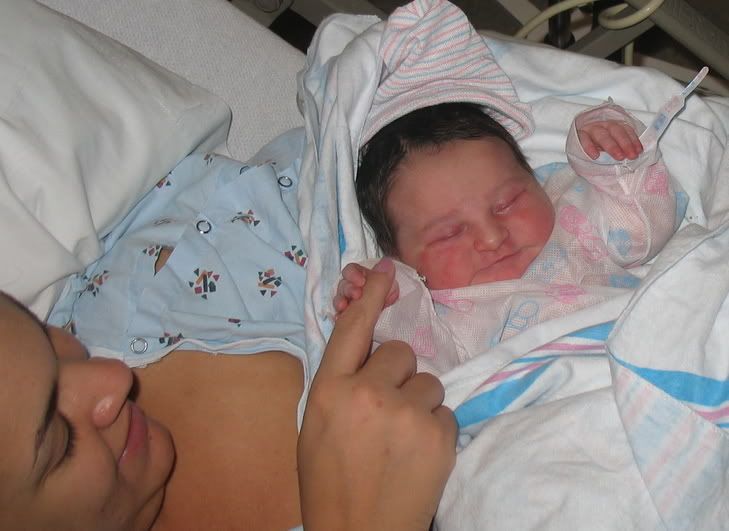 Stacie was just great through all this, although she is pretty worn out, hasn't really slept since Thursday night, is a little groggy from the morphine (of which they are weaning her off), and still uncomfortable from the c-section she had to have. She's going to have a great little girl because she was one herself and has a really good head on her shoulders. I had to laugh when her husband brought her framed picture of her dog Eddie into the room for company and almost dropped it before putting it on the table. Her eyes bugged out daggers, even in her post-morphine stupor. That is so Stacie! **LOL**
So congratulations to Stacie and Jason, my sister Cyndi, Stacie's Mom, and everyone else who had a hand in making this possible, not least of which is Jaycie Rose (not sure of the spelling yet) who did pretty good for such a tiny little thing, I think.
AND THEN THERE'S MY LOVE OF BASEBALL
Some of you may know of my love of baseball. I've been a Cleveland Indians fan since I was about 7 years old, which means I've been suffering for a long time. This has been another one of those disappointing seasons, although I won't go into why that happened.
However, one of the reasons I so love the game is the irony inherent in it. For example, last night, the Tribe DH, Travis Hafner, had a chance to break the major league record for Grand Slams in a season. He has hit six this year with about 30 games to go. However, the Texas pitcher managed to hit him on the hand with an inside fastball, sending him to the sidelines for, hopefully, just a few games.
With Hafner out, the Indians called up one of their best minor league prospects, Kevin Kouzmanoff. He was in the lineup tonight and guess what happened in his first at bat. Here's a hint. He came up with the bases loaded! You guessed it. In his first major league at bat, he hit a Grand Slam homer!!! This, to my knowledge, has been done only twice before - first in 1898 by a guy named Bill Duggleby, who was actually a pitcher. The second was last year when a Florida Marlin named Jeremy Hermida did it as a pinch hitter. However, I think Kouzmanoff did it on the first PITCH thrown to him. It's funny, isn't it? He'll always be remembered for what he did tonight, and it would never have happened had not Travis Hafner been hit by a pitch in the same situation Friday night. You've gotta love it!
I wanna tell you how it's gonna be
You're gonna give your love to me
Love that lasts more than one day
Well love is love and not fade away
Well love is love and not fade away
Well love is love and not fade away
Well love is love and not fade away
Not fade away
Not fade away
:D
Current Mood:

happy

Current Music:

Not Fade Away - The Rolling Stones