***
WOW ... I CAN SOMETIMES BE TOO GOOD TO MYSELF!
First off, the football playoffs are in full swing and things are at a fever pitch here in New Orleans ... and I'm not talking about the protests against the crime and murder rate. I'll pass on that for now. If I've heard "Enough is enough" once, I've heard it a thousand times. No one wants to do what really needs to be done, so nothing probably will.
I wonder where all those national "leaders" and celebrities who creeped down here to get in front of a microphone and on the t.v. after Katrina were today? Like most of them (there are exceptions) really care about anyone but themselves and their image. We'll have to see what happens there. I could go on for pages and pages on this topic but won't. We live in a very disturbing world these days. It seems everyone has gone mad and can't even see whats right in front of them. Enough of that. This is why I rarely talk politics, current events, and human mis-behavior.
However, baseball spring training begins next month, and I keep up with the sport year round. I heard an interesting bit of news in that regard. One of the major league teams is creating an
*** ALL YOU CAN EAT ***
section in right field.
***LOL**
You might think it would be in a place like Houston or maybe Atlanta or perhaps Chicago or New York but NO! It's in Los Angeles!
WAIT UNTIL THE FOOD POLICE FIND ABOUT THIS!
I wonder who will be the first to file suit for hardening of the arteries or something against Rupurt Murdoch in an attempt to separate him from some of his many millions of dollars.
Maybe they will have veggie burgers!?! I doubt it. Stay tuned and remember you heard it hear first. Oh, btw ... a ticket will be $40. I wonder how long the concession lines will be?
Wanna know what I had for dinner tonight? Sure you do:
Fish & Chips Louisiana Style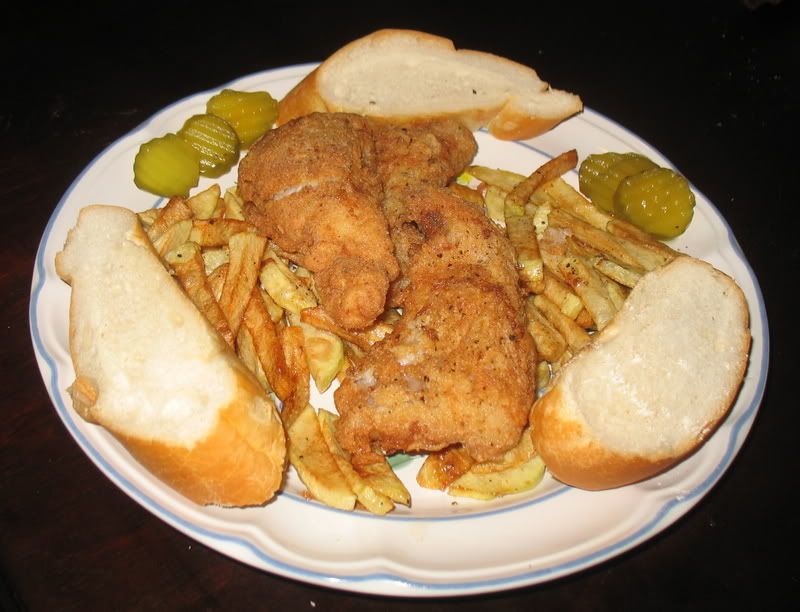 Don't blame me. The catfish was on sale for $1.19/lb. My supper tonight probably came in at about $1.50, including everything. The French bread was hot from the bakery again. Can you get fresh-baked bread very easily? It's the only way to go. Oh, and I always use real butter. I gave up
trans fats
when I was in my twenties and tried to convince people of the downside of what was called "hydrogenated oils" back then. Of course I have been known to use Crisco in my cookies and a little margarine to keep my butter from burning, so you have been warned. ;-)
***
Call some other's baby that ain't all
I wanna kiss her but she's way too tall
Young man rhythm's got a hold of me too
I got the rockin' pneumonia and the boogie woogie flu
***
Current Music:

Rockin' Pneumonia and the Boogie Woogie Flu - Johnny Rivers