SOMETIMES WHAT WE DON'T HAVE FORCES US TO STRETCH WHAT WE DO
Yep, we were pretty poor when I came up, but most everyone around us was too so we weren't aware of it that much. A lot of Cajun culture, its sometimes sadness but also its
joie de vie
is centered in overcoming nature and in recognizing and accepting that balance of good times and bad, of want and plenty, of life and death.
It was often necessary to be frugal and inventive. For example, if and when bread went bad after a couple of days or so, this is what we did with it:
Ed's Pan Perdu (Lost Bread)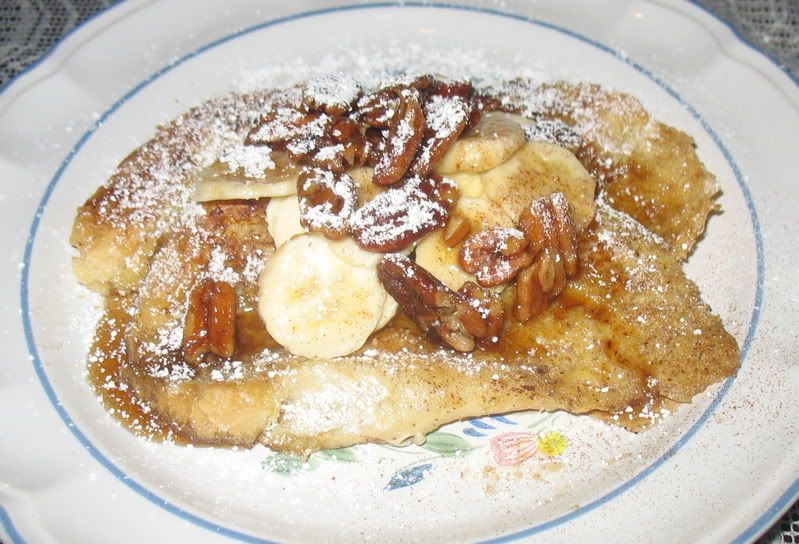 I'm sure people were doing French Toast in France before the Acadians did, but I'd like to think we made it not only an economical dish but an art-form as well. Of course I'm from here and I have my prejudices.
Mine has an egg and milk mixture with sugar, vanilla, and cinnamon. My toppings include sliced banana (strawberries are nice too), drizzled with pecans toasted in butter then simmered in cane syrup and (this version) a splash of peach schnapps. I finished it off with a dusting of powdered sugar.
How'd you like to wake up to that two or three times a month Christine? Kat ... Eileen ... gonna try your hand at it? Wanna get on Gitta's good side Jeff? Let me know if anyone needs help. :)
***
Anything you want, you got it.
Anything you need, you got it.
Anything at all, you got it.
Baby!
Anything you want
Anything you need
Anything at all
***
Current Mood:

cheerful

Current Music:

Anything You Want - Roy Orbison
Tags:
Latest Month
August 2014
S
M
T
W
T
F
S
1
2
3
4
5
6
7
8
9
10
11
12
13
14
15
16
17
18
19
20
21
22
23
24
25
26
27
28
29
30
31